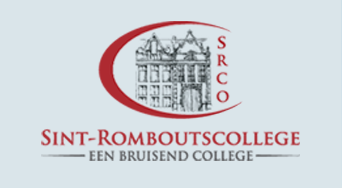 Recent activities
Green Week (February 10th to February 14th 2020)
On February 11th Belgium and the Netherlands have a national "Warm Sweater Day", on which everyone is encouraged to turn the heating down a couple of degrees. In order not to feel cold, everyone is also encouraged to wear a warm sweater. Good for the environment and our future.
Throughout the week, our school's Green Committee has organized activities that focus on the environment such as collecting old electronic appliances, a quiz about litter and a "green" Valentine's Day. Students can each time win Doppers-water bottles.
National Olymiads (January and February)
Our students can voluntarily take part in various National Olympiads organized on Wednesday afternoon (when there are no classes) and the scores up to now have always been impressive. Even this year, the results are wonderful: three pupils made it to the second round of the Physics Olympiad as well as the Biology Olympiad. For the Mathematics Olympiad, no less than 31 pupils continue to the second round. One pupil even obtained a score of 100%. Congratulations to everyone who participated!
Exchange with a Wallonian school in Ottignies (November and January)
Each year in November some of our second year students visit the Collège du Christ-Roi in Ottignies. The students stay with the family of a pupil for two days. They have communicated with (in French!) each other before the actual exchange. In January, the pupils of the French speaking school come to Mechelen and again stay at the homes of the pupils themselves. They engage in all sorts of cultural and sportive activities, getting to know each other, the school and the city while communicating in French. For pictures, click here and here.
School outing on Friday September 27th
The sight of our school on Friday September 27th must have been a strange one: empty classrooms, corridors and playgrounds. Where were the students? Don't worry, our students hadn't been kidnapped by aliens… Rather, they were all gone away on a school outing. Each final Friday of September, our school organizes different excursions for each year. Sometimes the trip is close to home (for example, our first and fourth year students went to different parts of Brussels) and sometimes it takes a long bus and/or trip (our fifth form visited the Wallonian city of Liège). Nearby or faraway, in any case these school outings try to combine playful with more serious activities. Pupils are asked to complete questionnaires about geographical, historical and/or linguistic topics and in the meantime discover the surroundings of a city in an easy-going way. All in all, learning and pleasure seem to go hand in hand!
Team building day for our oldest pupils (September 19th)
Everyone agrees about how important the final year at high school is. As the concluding year of your teenage period, you are about to leave your friends and go off to study at a university or at an institution for higher education. Because of that, our school tries to put more emphasis on team spirit and team building within the different class groups of the final form. On September 19th a class outing was organized in and around the city of Mechelen during which pupils had to work together in various team building activities: various circus activities (trapeze, trampoline) and acrobatics, boxing classes, baseball … Getting to know ones classmates in a sportive setting proved to be very beneficial for the classroom dynamics!
Click here to see more photos.
Biology field trip for the fourth form on Monday September 18th
Our pupils of the fourth form had the opportunity to become biologists themselves. On Monday September 18th they visited a well-known Antwerp institution (PIME) that provides authentic contexts of education in the environment. Wearing rubber boots and armed with dipping nets, our pupils could investigate the quality of a pond lying near PIME. At the end of the day, they were able to determine the insects (water scorpions, larvae …) that are living in the water and they learned to chemically analyse the water in the pond, hereby determining the level of pollution.
(Disclaimer: no insects got hurt during this field trip nor did any pupil fall into the water…)
Click here to see more photos.
A warm welcome to our new students
At Sint-Romboutscollege we like to give a warm welcome to new pupils starting in the first year. The first day of school was therefore a day on which these pupils got to know the school and their fellow pupils in a playful and warm manner. Also, at the beginning of each year our pupils of the first form stay for two days at Bredene, a well-known town located at the seaside of Belgium. This year, no less than 235 pupils took part in this two-day event to get to know their new classmates and new teachers. The programme included a variety of activities: strategical games in the sand hills, dressing up for a classy casino party, swimming, evening walk at the shore … Each class was also encouraged by two buddies: older pupils of the fifth and sixth form that will look after these "freshmen" for the rest of the year. An unforgettable start of their high school career!
Click here to see more photos.