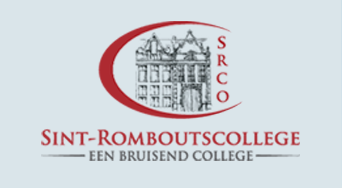 Past Erasmus projects
Erasmus+ in Belgium: Young Entrepreneurs - Learning by Experience (21-29 March 2019)
They were here for an entire week, our Erasmus+ guests from Greece, Portugal, Estonia and Latvia. A group of 20 students and 7 teachers visited our school, our families and our cities to work on the Erasmus+ project: Young entrepreneurship - Learning by Experience. Besides doing workshops and presentations on social entrepreneurship, we also visited the European Parliament, took a tour Antwerp and Brussels, explored the wonderful world of chocolate, participated in a scouting activity and visited the local brewery Het Anker in Mechelen. Our guests definitely got a good impression of everything that is Belgian. We hope that these youngsters will find their way back to Mechelen in the future and that they have made friends and gathered experiences that will last a lifetime.
This was the last exchange in the project about entrepreneurship. New applications have already been sent out, so we hope to start with a new team and project in September.
Erasmus+ travel report - Estonia
Within the framework of Erasmus+ (financially supported by the European Union), five students, accompanied by two teachers, left for Estonia to learn about 'entrepreneurship' and to share their knowledge about this topic with the other participating countries. The countries involved in the exchange were Portugal, Greece, Belgium, Latvia, and Estonia. Estonia hosted this visit and welcomed students from the four other nationalities. Latvia, Greece, and Portugal had had this opportunity earlier this year and last year. Estonia was the fourth location visited. Belgium will be the last country to host the event. This is where the exchange will be completed upcoming March. In this report we will introduce ourselves and try to tell you all the details about the activities we did and the things we learned during this journey.
Participants
As mentioned before, two teachers and five pupils left for Estonia from the 21nd until the 29th January 2019.
Students
I am Laura, a sixth-year student Latin-Modern Languages. I have always loved travelling and learning about new languages and cultures and taking part in an exchange like this is a wonderful opportunity. I was over the moon to hear I had been selected. I was totally ready to submerge myself in the local culture and to make it an amazing trip!
Hello, my name is Charlotte Severyns. I am a fifth-year student and I study Latin-Mathematics. I participated in this trip because I love travelling and learning about other cultures. Luckily snow and cold weather don't bother me. I also wanted to learn about economics and social entrepreneurship. This was the perfect opportunity as well to improve my English in a fun way. All in all, I am very happy with the opportunities this exchange has offered me, and I would do it all over again!
I am Olivier and I study Latin-Sciences. I am in my fifth year. When I saw the sign-up sheet for this exchange, I didn't hesitate one second. I love travelling and I want to see as much of the world and of other cultures as possible. This was also a chance for me to improve my English. Erasmus+ was a wonderful opportunity for me, and I am happy I didn't let it pass.
I am Sofiane, I'm in my fifth year and I study Economics-Languages. I applied for this exchange because I am very interested in entrepreneurship, and I saw this as a chance to broaden my knowledge of economics. Secondly, I wanted to work on my English, which really worked out, so I am very grateful I was able to be a part of this amazing project.
Charles Van Linthout Muller
My name is Charles and I study Latin-Modern Languages in the sixth year. I saw Erasmus+ as a chance to broaden my view of the world. I had already been involved in this project through the student council, so for me it was extra interesting to experience this project first hand.
Teachers
One of the driving forces behind this Erasmus Project, chemistry teacher and head of exchange projects at our school. It is always a challenge to go on an exchange and to make sure that every student finds a welcoming host family and has an unforgettable experience. For some it is a leap into a future European or international career, for others it is pure adventure. We are proud to be able to use a part of the 2,6 billion Euros the EU sets aside to create this international dimension at our school.
A new force on the Erasmus team, and geography teacher. I'm ready to support this exchange with a lot of enthusiasm, and I'm willing to weather the cold Estonian climate.
Programme
You can find the complete program in annexe 1. Below we will give some extra information about the day-to-day activities, combined with the pupils' experiences.
Monday January 21st
It's Monday morning, our alarms were set for 5:30 am. Barely able to open our eyes, we got out of bed. Our trip to the cold North had finally begun. Admittedly, we were nervous and tired, but excited nonetheless. Around 9:30 am we boarded our plane. About three hours later we landed on Estonian soil. 'The temperature's not that bad', we even dared to say when we arrived in Tallinn, the capital of Estonia. How wrong we were. Tallinn looked like a winter wonderland covered in snow and the thermometer read -20°C. We left our luggage in the airport lockers and boarded a taxi to get to the city centre which was only a 10-minute drive from the airport. Tallinn is a nice combination of a modern city with a beautiful medieval centre. The centre was located higher than the rest of the city and had lots of old cafes, souvenir shops and churches. We visited one café called 'Dragon'. It gave off strong medieval vibes and upon entering we were rudely welcomed by a very aggressive barrista. Luckily, not all Estonians are like that and we did get a very warm welcome from our host families. Around eight o' clock we got on the bus to drive to Tamsalu, the town we would be staying at. Immediately we went to the homes of our host families and we were warmly welcomed with food. The next day the real exchange activities would begin.
Tuesday January 22nd
The next morning, we woke up around 7:00 am local time, which is 6:00 am Belgian time to get ourselves ready for our first day. At 8:00 am we arrived at the local high school where we would participate in the first two classes. Our first lesson was Music and we were all a bit shocked by the education system there. No one was listening to the teacher, pupils were walking in and out the classroom. They were busy using their mobile phones, no one was writing anything down, in other words: pure chaos. The lesson after that was English and it was just as chaotic. After ten minutes the teacher disappeared and did not return, and we had to make an exercise that was way far too easy for us. Afterwards we went to the Assembly Hall, where we were welcomed by performances of the school's traditional and modern dance teams and of the school band. The coffee and cookies that were served there made us all very happy too.
Later that day we went to a local limestone museum. The guide there did not speak English very well and the museum itself was not very attractive. We did have fun with another activity that day. We went to Porkuni School, a school for mentally disabled children. There we could play with the children and get to know the facilities of the school, and that was very interesting.
After lunch we learned more about 'entrepreneurship'. The art teacher at the high school runs her own business: she makes and sells clothes made from sheep wool. Her husband is a sheep farmer. We visited her shop and learned about how she works, and we also got to see the sheep at the sheep farm.
Wednesday January 23rd
Our third day started with the presentations which each country had prepared on social projects and entrepreneurship at their own school. We talked about Music for Life, the student council, our 'study house', the homework class and a lot more. Afterwards a student company from the Estonian school talked about their experiences with starting a business. Five students had started a company making ice cream with charcoal, and we even got to taste this ice cream. Opinions differ and so do tastes. But it was very interesting to hear that these students had managed to double the invested money they had started with.
After lunch different groups were created, each time consisting of one person from each country. We had to look for similar interests and to start thinking about an idea for our own imaginative student company. We listened to a presentation about how to make a business plan, and afterwards we started making our own business plan. This was the start of the real purpose of the exchange: learning about how to manage a company.
That night the whole group went ice skating; this was a great opportunity to get to know everyone and to forge friendships with students from other countries.
Thursday January 24th
Thursday was a more relaxed day. We went to a beautiful frozen bay where we visited a museum showing various aspects of sea life. There was also a display of various objects which people had found in that bay. Later that day, we visited a few manors, very fancy and large mansions, filled with stories of powerful figures and royalty. Afterwards we had a fun time in a natural history museum. We ended the day with a trip to a buffet restaurant.
Friday January 25th
After all the culture we got to see on Thursday, it was time again to work on our student companies. In our individual groups we finetuned our projects that had to be ready on Monday. We had to think about our target audience, the competition in the market, marketing, and a lot more. The teamwork wasn't always easy, but we made it work, while getting to know our teammates at the same time. We also had help from the economics teacher of the high school, and our own teachers as well.
In the afternoon, we went to Rakvere (where it was very cold) to visit a medieval castle. This was for many students one of the highlights of the trip. It was just the perfect combination of learning and fun at the same time. We had a very nice easy-going guide in medieval dress who took us through a creepy maze, and taught us how to make gunpowder, which we even get to fire! After the castle we went to a shopping mall where we spent a couple of hours until the bus took us back to Tamsalu.
Saturday January 26th
To start off the weekend right, we got to build a snow city. Each participating school was asked to make something out of snow that was typical for their country. We decided to make the College TD logo, the bear. We were struggling at bit in the beginning, but after encouraging each other, our pile of snow finally turned into a bear. To make it even better the local firemen came around to spray water on our snow creations to make them last longer. We also tried to use the fire hose ourselves.
In the afternoon we painted our bear, and at first, we tried using paint brushes but soon realized we would never finish in time. So, when that did not really work out, we just started throwing buckets of paint over the bear. We even had to lift Charles up to paint the eyes, which was not easy. Afterwards we got our pictures taken with the bear by a professional photographer.
The rest of the day we were free to do what we liked. For the Belgian students this was a dangerously fun party at an Estonian girl's house.
Sunday January 27th
Sunday was family day. On this day we got to spend our day with our host family doing lots of different activities. First thing we got to do was sleep in, which we really needed. Some of us went skiing or took a snowscooter ride; others went to a spa or went bowling. All in all, this more relaxed day was very welcome in our busy Erasmus+ schedule.
Monday January 28th
Monday was the last official day of our exchange. After another chaotic first lesson we went to the auditorium where we received about half an hour to finalize our work on the student companies. The presentations themselves followed right afterwards and these were strongly led by the Belgian students. The group of Laura Struys presented their project entitled 'Catwalk' which involved the very original idea of creating foorballshirts for cats. This original idea impressed the judges and they deservedly won the grand prize. Laura Struys, Charles Van Linthout-Muller, and a Greek girl, Violetta, each also received an individual title for being the most eloquent speakers. We can add as well that the Belgian students clearly carried weight and were very instrumental in the success of the group presentations, which wasn't always easy.
That night we had a goodbye dinner with the whole Erasmus+ team. This dinner soon turned into a dance party which we later continued in the cultural centre of Tamsalu, without the teachers.
Tuesday January 29th
Tuesday, we woke up early again to catch our 9 o' clock bus. Saying goodbye to our new friends and our host families was very hard and emotional. With our suitcases, which were filled with all the presents received and which were therefore a few kilos heavier than before we left for Tallinn International Airport. To kill the time before our flight departure we spent some time in the Tallinn shopping mall. Around 8 pm Belgian time we arrived in Brussels. Tired, but happy to be back we all headed for home.
Pictures
Here are some pictures: